Tea is back. (Exhibit A: The crowd at the third annual Sydney Tea Festival.) But did it ever leave us?
Tea has been a cultural mainstay for centuries in many countries—including Australia—but, until recently, it just didn't get the buzz like fancy coffee joints or specialty whiskey bars. And yet tea as a trend has been brewing for some time. Forget reports that tea sales have fallen (those figures represent regular black tea in supermarkets)—tea has diversified.
Exhibit B: A blend for every ailment.
Drink to your health
Last year I nodded to the number of tea stalls that sold tea as a health tonic. This year I felt there were even more brands that touted the medicinal effects of tea, from the Ayurvedic properties of chai and its spices (with or without camellia sinensis) to some Chinese herbal concoctions, also with or without actual tea.
The marketing for this varied across the board. In some cases it was overt, for example My Organic Tea named each of its products after the ailment it was designed to relieve—'My Gout Tea'—whereas others like TeAmor Tea Tailors acted as herbalists dispensing a bespoke tonic like a prescription. Many, like SIPLO, chose suggestive tea names (for example, IGNITE YOUR SENSES for a 'revitalisation' infusion) to indicate the infusion's function.
The problem with this approach is that it leads to hundreds of blended tea products and herbal infusions trying to be a solution to your body's problems. The primary focus is on tea as functional rather than enjoyable, even if the additives—herbal or otherwise—taste nice.
Another parallel trend is the focus on organic products. No less than 10 stalls had 'organic' in their name and plenty of others sold organic tea and herbal infusions with the biggest marketing push towards healthy consumption (rather than environmental concerns).
Local heroes
Australian tea and tea products also had a good showing this year, with a more prevalent push to underline local and native products. While festival veterans Perfect South and T Totaler have always flown the Australian flag over their products (metaphorically, anyway) there were a number of newcomers who chose to leverage the local angle, including TÈ TEA and even The Husk Mill, which sells cocoa husks as a chocolatey infusion.
This was brought home by two stallholders: the Alpine Tea Co, tea growers from Victoria who make Japanese style green tea, and LORE, who harvest and process wild guradji.
Teaware merchants and the food purveyors were also proud of being locals, from those up the road in Newtown to ateliers in regional NSW and further afield.
Tea for all occasions
Tea is back, but not as you know it. Exhibit C: Tea booze. Longleaf Vodka finally got a licence to sell at the festival and provide cocktail samples, and Wild Kombucha, which I always see on the bus when travelling down Parramatta Road, had a nice little bar setup too.
Tea is no longer steeped, either. Today you're as likely to have it whisked (matcha) or put in food (matcha again, and chai) as drunk from a teapot.
Even the teapot is in some ways endangered: the number of tea flasks I saw for sale bordered on hilarious. So. Many. Tea. Flasks. Unfortunately none of them revolutionary so I'm satisfied with the eight or nine I already have, thanks.
And let's not forget tea subscription service Tea Garden Co and tea leaf reader Tea with Annie to round out the unusual ways in which we 'consume' tea.
Final impression? I felt this year was better than last year. I think the bigger venue (still at Carriageworks—a great inner city location—but in the large hall) helped to distribute the crowds, which just about eliminated the only thing I truly hated about 2015's event.
And despite everything I mentioned above re: herbal infusions, there were more stalls selling pure tea than last year, and sometimes from unusual places like Korea and Kenya. Specialists like Tea Angle and Yunnan Village, which focus on teas from Guangdong and Yunnan provinces in China respectively, were allowed to spread their wings among much more established brands with broader appeal.
I really enjoyed greeting old acquaintances and chatting to tea lovers… and I'm still dreaming about some of the matches from the Tea and Chocolate Pairing Workshop.
Best stalls
Completely subjective titles awarded by moi.
And because I know you're a nosy bunch, here's my haul from this year's event: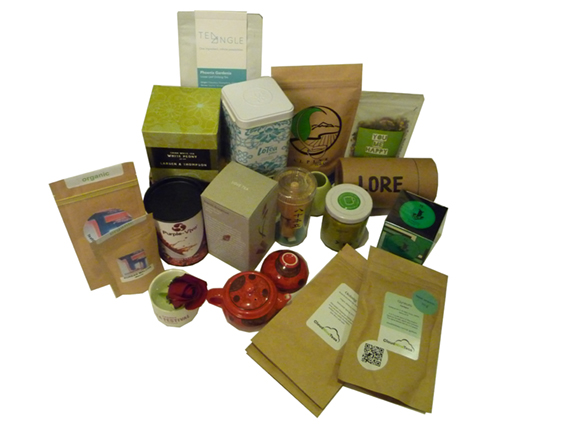 A few bits of teaware (the cute red tea set from Tea Angle and the matcha implements from Tippity and DoMatcha, as I desperately needed a new whisk), a couple of blends, matcha 'butter' from matcha.lab and a lot of delicious, delicious tea.
See you next year!