Brown sugar milk tea is a pretty standard flavour so I thought I'd have a go at a couple of the kits widely available at supermarkets for a direct comparison.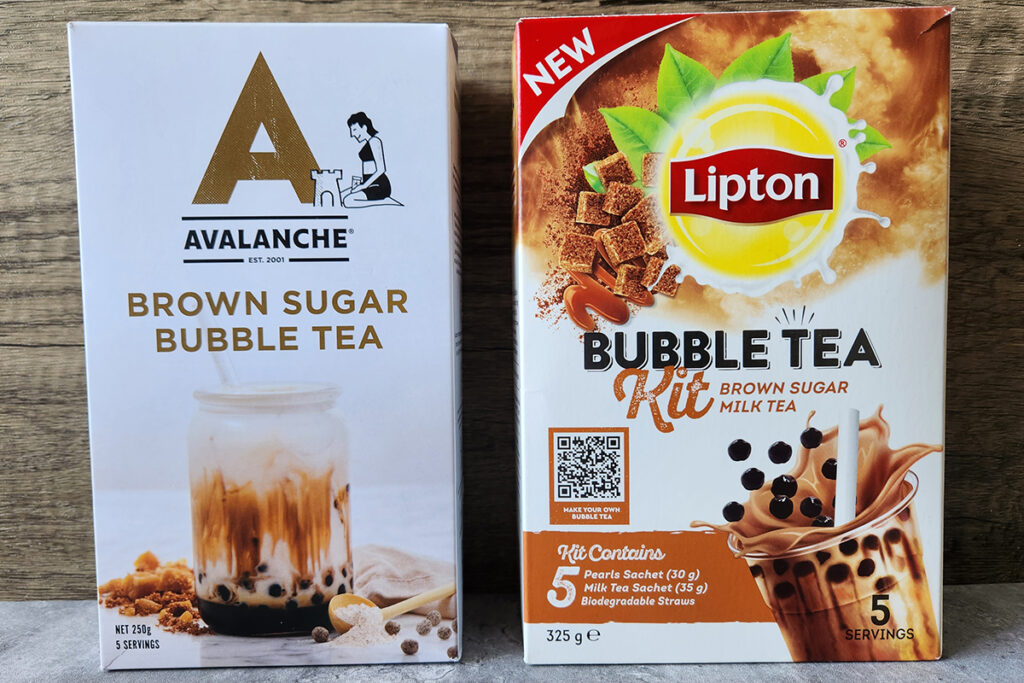 Avalanche's kit is 'Made in New Zealand from local and imported ingredients' and has an RRP of A$8 for a box of 5; Lipton's kit is 'Made in China from local an imported ingredients' and has an RRP of A$8.50 for a box of 5. Bought both of these from Coles. It's a shame the 'Made in' doesn't elaborate which ingredients are from the main country of manufacture and which are imported from where else, however.
---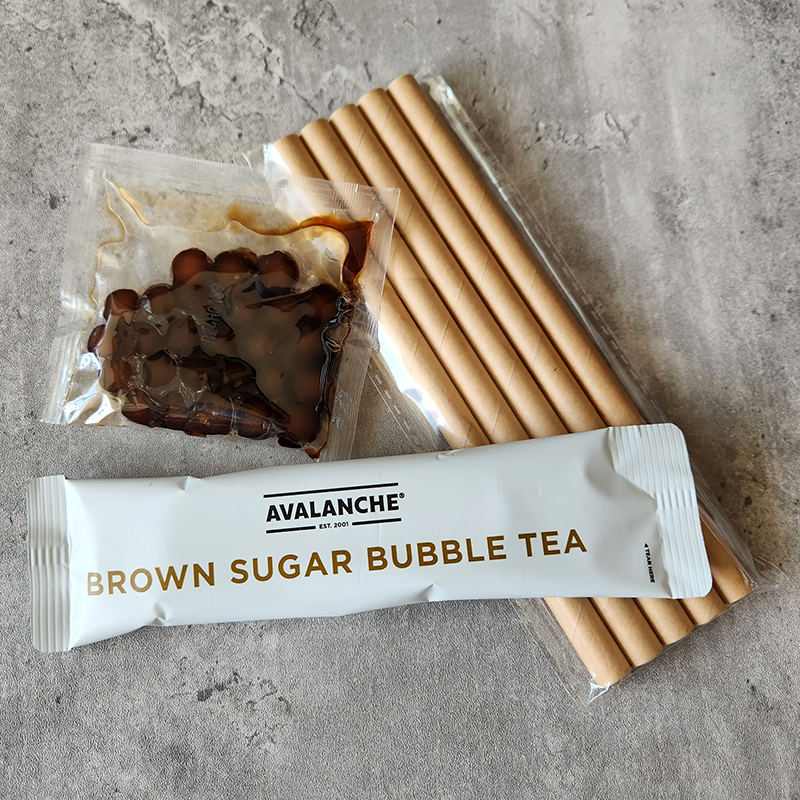 Avalanche kit
Contents:
30g sachet of tapioca balls (boba)
20g sachet of tea mix powder
Wide straws
You'll need:
A microwaveable vessel
Some ice (3-4 small cubes or one large)
A cup with a minimum 250ml capacity
Measuring jug/cup
200ml cold water
Stirring instrument (possibly the provided straw?)
Method:
Open the boba sachet, stand it in the microwaveable vessel and zap in the microwave for 15 seconds.
Pour boba from the sachet into the vessel, add ice to cool it down.
In the other vessel, empty the tea mix, add water and stir until dissolved.
Add boba and enjoy.
Assuming you have everything ready to go when you pop the boba in the microwave, you can definitely prep the tea mix while it's heating up and have yourself a bubble tea within a minute of opening the box. Or if you want less washing up, you can use the same vessel for the boba and the tea and just do your stirring with the boba and ice in the vessel. I actually used the mason mug with a lid and had it shaken, not stirred. As I used my metal straw, I don't know what the integrity of the kit straw is like for stirring.
---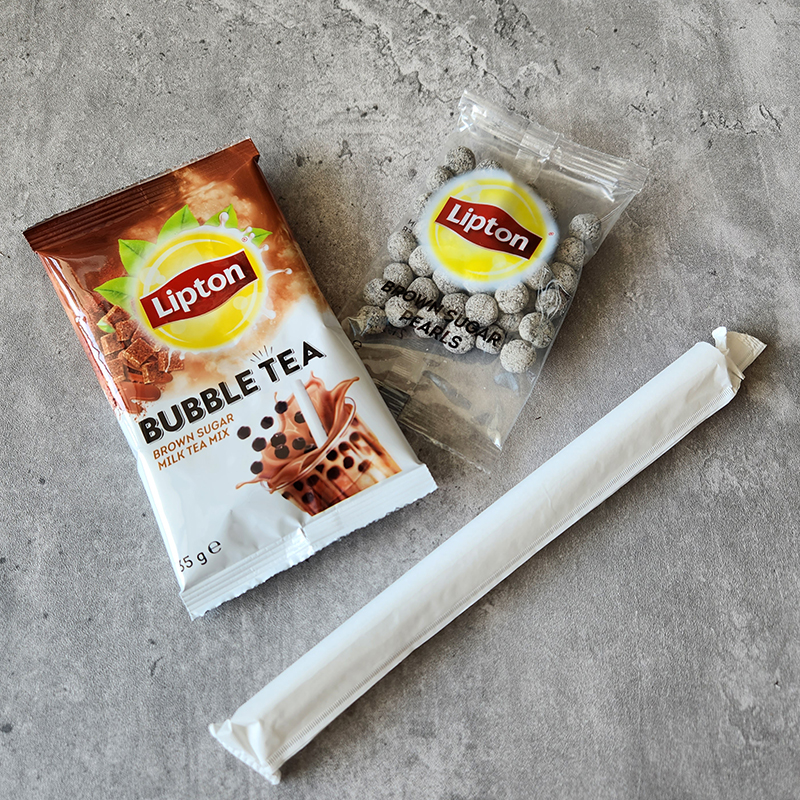 Lipton kit
Contents:
30g sachet of tapioca balls (boba)
35g sachet of tea mix powder
Wide straws
You'll need:
A microwaveable vessel
Measuring jug/cup
200ml room temperature water
A sieve/strainer
A glass that can withstand hot water with a minimum 250ml capacity
125ml 70C water
Stirring instrument (not the provided straw)
125ml cold milk
Some ice (3-4 small cubes or one large)
Method:
Add the boba and the 200ml water to the microwaveable vessel, zap for 90 seconds in the microwave then strain.
In the glass, stir together the tea mix powder and the hot water until the powder has dissolved, then add milk, boba and ice.
The Lipton version is a fair amount of work. Not only does it require you to heat water to 70C and zap the boba for 90 seconds, both of which take more time and energy than the Avalanche kit, straining the boba is a bit finicky, and having milk on hand might be a bit of an ask. Also, if your kettle is anything like mine, the minimum volume of water you can heat is 500ml, which is more than you need so that's a bit of a waste.
---
Both require access to a microwave and ice, which may not be readily available to you, therefore rendering these kits less useful for homemade bubble tea. Both tea mix powders contain milk, so if you have an allergy or intolerance to dairy, or if you're vegan, these are not the kits for you.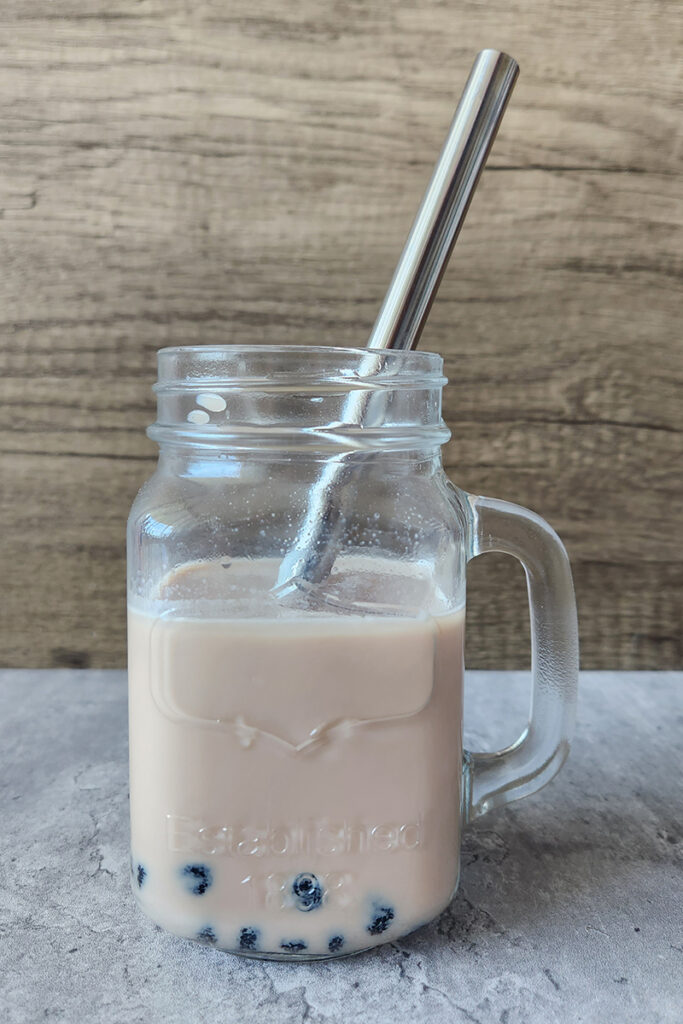 Straight off, the Avalanche kit requires less equipment and less time to make and gets all the points for convenience. Making the tea mix dissolvable in cold water is the deciding factor, as it means you don't need to spend time heating water and then expend effort cooling the liquid down again.
Having said that, the taste of the Lipton kit is far richer, both in the tea and brown sugar flavour and also the texture, thanks to the addition of milk (which I'll remind you is your milk). The ingredients state that it contains 3.2% instant black tea compared to Avalanche's 2.4%, plus there's simply more of the Lipton mix (35g versus 20g) in play.
The boba for both was pretty even, with the soft chewiness you'd expect of well cooked tapioca balls, though I could see the potential for the Avalanche boba getting too soft with too long in the microwave (wattage matters!) and the Lipton ones getting soggy if you don't strain them quickly enough.
The biggest issue for me is volume. A 250ml glass of bubble tea, while great for portion control, is not enough of a treat so I would double up on everything here. And that actually makes these home kits less attractive financially as an option versus going out and getting bubble tea from a specialty shop. It might cost you A$5+ for 500ml of bubble tea in the shop, but someone has made it for you and you don't have to clean up afterwards.
Verdict
If you have some time and all the equipment on hand, the Lipton sneaks ahead for flavour; if it's convenience you're after to satisfy a sudden craving, Avalanche is fine in a pinch. But let's face it, if I had the option to get a freshly made store-bought one from my favourite venue – even if it had to be delivered to my house – that's what I'd do instead.