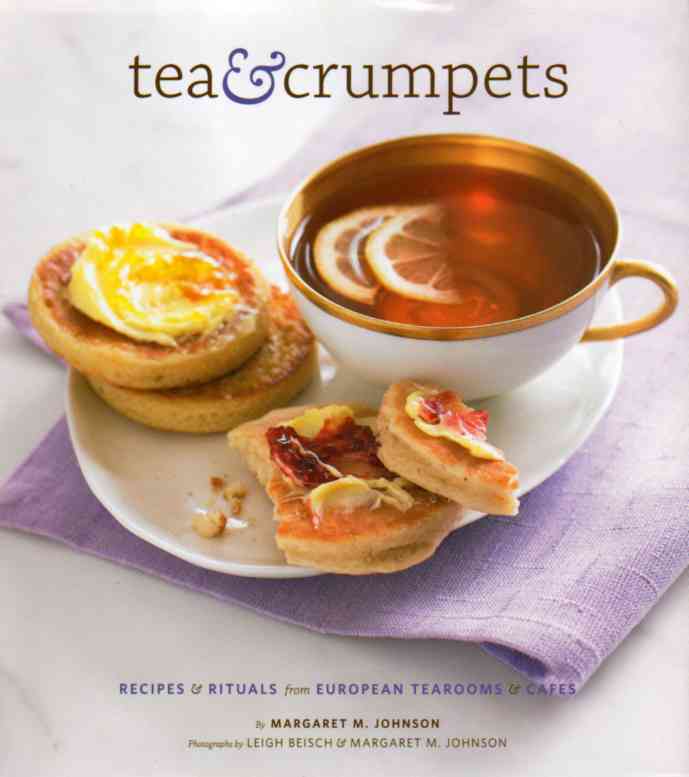 Imagine if you were an afternoon tea aficionado and you decided that for a book project you'd travel to the United Kingdom and Europe and visit the world's most famous tearooms. At the end of it, your publisher picks up the tab and you get to eat all the macarons and crumpets and scones and gateaux you can fit in and digest with hundreds of cups of tea. Margaret M Johnson, you're my idol.
Part recipe book, part tearoom history, Tea & Crumpets is a beautifully presented hardcover that shares some of the not-so-secret recipes of famous tearooms as well as covers the evolution of afternoon tea rituals in the UK and Europe over centuries.
Johnson starts with a potted history of tea—nothing that those with a passing interest in tea haven't heard already—and then launches straight into the food. Set out in sensible sections, the recipes follow the tiers of a tea stand: Sandwiches & Savories, followed by Crumpets, Scones & Fruit Breads in the middle and Teatime Sweets to finish. Preceding each section is a little information about the types of food eaten by different nationalities and interspersed among the recipes are culinary notes ranging from unusual or emerging practices to an insight into the origins of a recipe or ritual.
Johnson finishes with a chapter dedicated to The French Art of Tea, including recipes for some classic French sweets, and a tearoom directory for the hungry traveller.
Despite being beautifully presented, with full-page colour photographs and the short introduction about the venue that shared its recipe, the recipes themselves are not well formatted. For starters, the instructions are in a chunk of text that could've done with either bullet/numbered points or extra leading between steps.
Secondly, some recipes go over the page, which is bad if you're actually testing the instructions and it's a library book and you don't want to get dough flecks all over the nice pages especially since the last few books you've returned were mildly water and/or tea damaged (sorry, Ashfield Library).
In the end I only tried one recipe, which was Twinings Lady Grey Cookies, which I will count as successful even though I ended up substituting half the ingredients and only realised partway through that the measurements were in American units so I probably got everything stupidly wrong. Stupidly wrong, but delicious.
Apart from the American measurement units, I also baulked at the use of the word 'cookie' as a substitute for the word 'shortbread' ("Queen Victoria… was said to be very fond of this cookie"—NO). There is a very clear difference between shortbread, cookies and biscuits and a cookbook author of Johnson's experience should know better that she cannot substitute these words. It'd be like a dog breeder calling a bulldog a pug. Same, same but different.
I remain, however, insanely jealous of Johnson and the fact that she's done a largely excellent job of writing such an extensive book on afternoon tea. The book is aimed at cooks and tea hosts, but comes alive through its use of nuggets of history and fascinating facts. Except for the bit where Johnson somehow managed not to get fat while eating everything on all the tiers (she did eat everything on all the tiers, right?), I feel I could do the same (sans recipes). So if any publisher wants to send me to investigate UK/European tearooms, I could definitely write a more comprehensive guidebook on tearooms with history and a bonus etiquette guide. Here is my email address.
Tea & Crumpets by Margaret M Johnson (Chronicle Books, 2009)