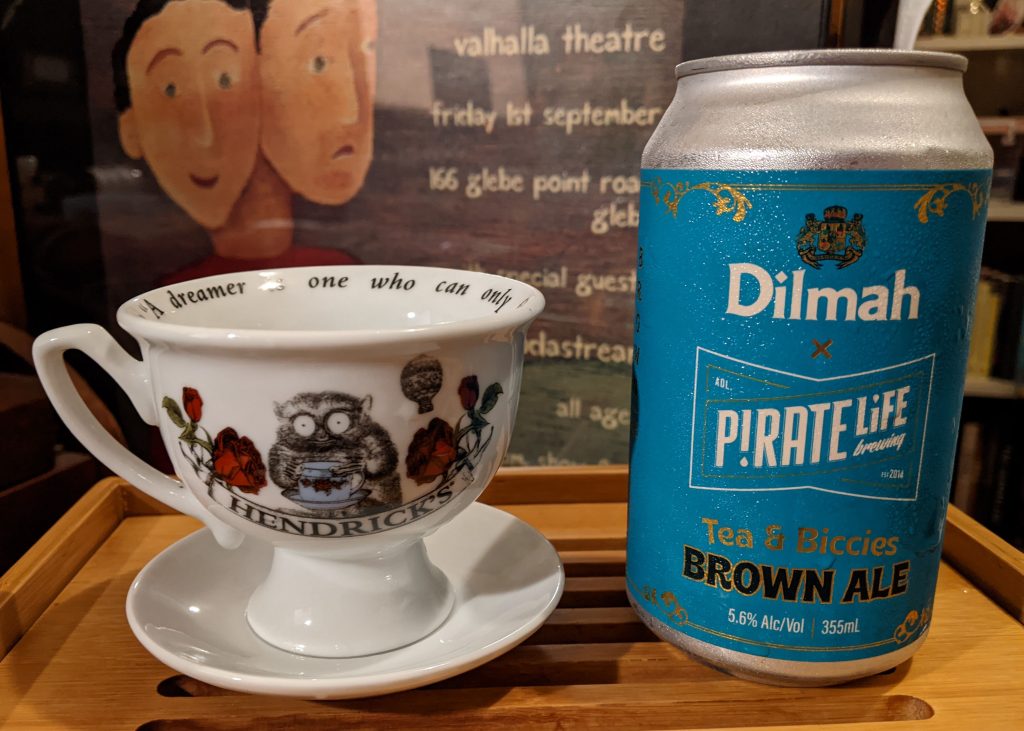 I love tea and I like beer so when Pirate Life (a craft brewing company in Adelaide, Australia) announced it had teamed up with renowned Sri Lankan tea brand Dilmah, I hit the search engines to secure myself a few tinnies of their Tea & Biccies Brown Ale.
First confession: I don't own a beer glass. I have a 1L stein, but a 355ml tinny wasn't going to sit well in it, so I defaulted to a teacup with a booze theme, my Hendrick's 'coupe', which has the bonus of being white inside so you can see the colour of the liquor.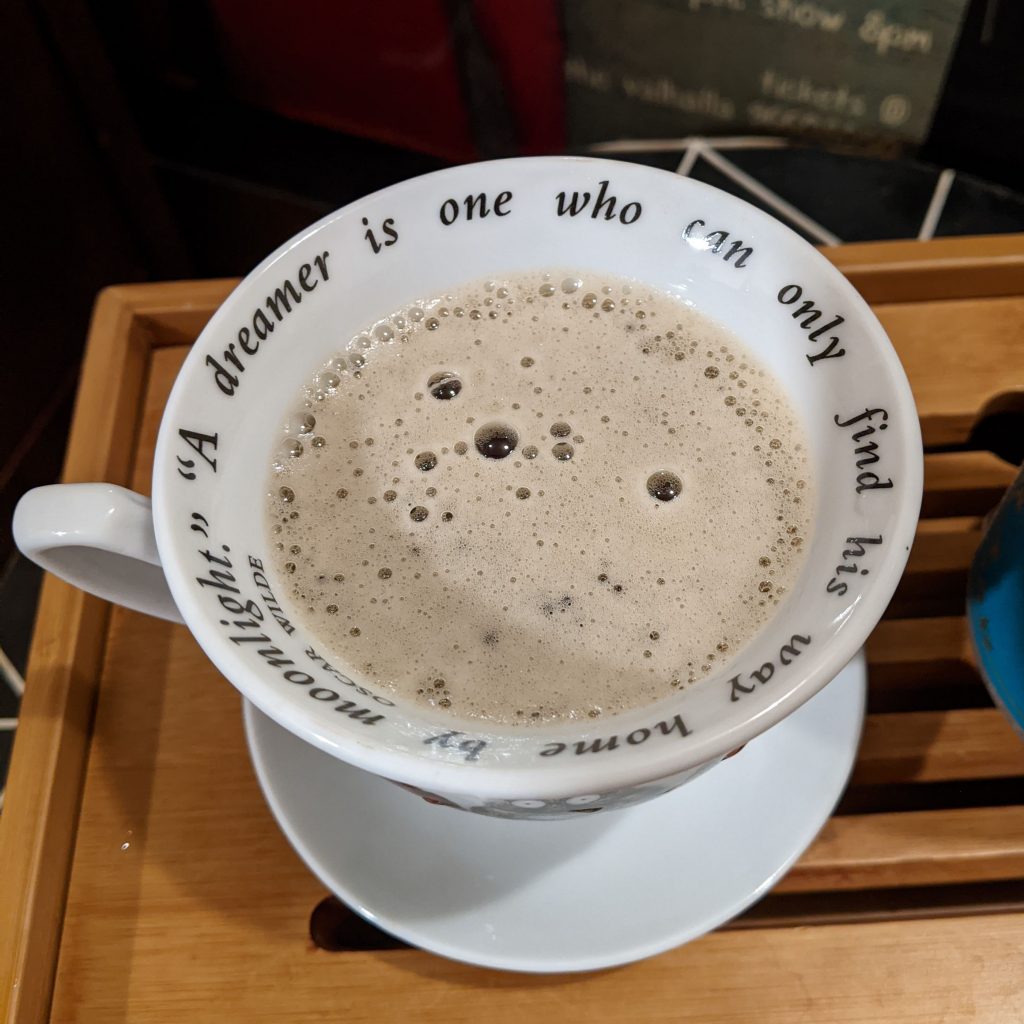 Second confession: I'm not great at reviewing taste and have never reviewed beer before, so I'm going to do my utter best to tell you as much as I can.
The name of the beer implies the flavours to expect, so I'll start there. For those unfamiliar with the vernacular, 'biccies' is Australian slang for 'biscuits', and we mean the type akin to hard cookies that you have with morning or afternoon tea rather than what the Americans call biscuits ("which is what I call a rogue scone. That is a scone what forgot its manners. It is out of control"—Hannah Gadsby).
For starters, as a brown ale, this beer will already lend itself to biscuity flavours. I like the darker style beers and this ale definitely agreed with me on that count. The initial scent was toasty, which then became sweeter like caramelised brown sugar.
The top note had the bright taste of Ceylon tea but then quickly mellowed to a slightly sweet and malty flavour. Yes it does taste like tea and biccies, as if you have dunked the biccies in the tea, but it is also still at heart a beer. With low fizz on the palate, more of a microfoam/crema situation than a true head (though keep in mind I poured it in a teacup), it felt like the kind of beer you'd have over a conversation rather than one you'd drink half-distracted by whatever was on TV.
Easy to drink with little bitterness and low astringency, the ale also had a pleasant aftertaste that sat softly at the back of the tongue. This is where the tea flavours came through most strongly, as an aftertaste of a cuppa rather than a beer, a more comforting caress than an ale would usually deliver.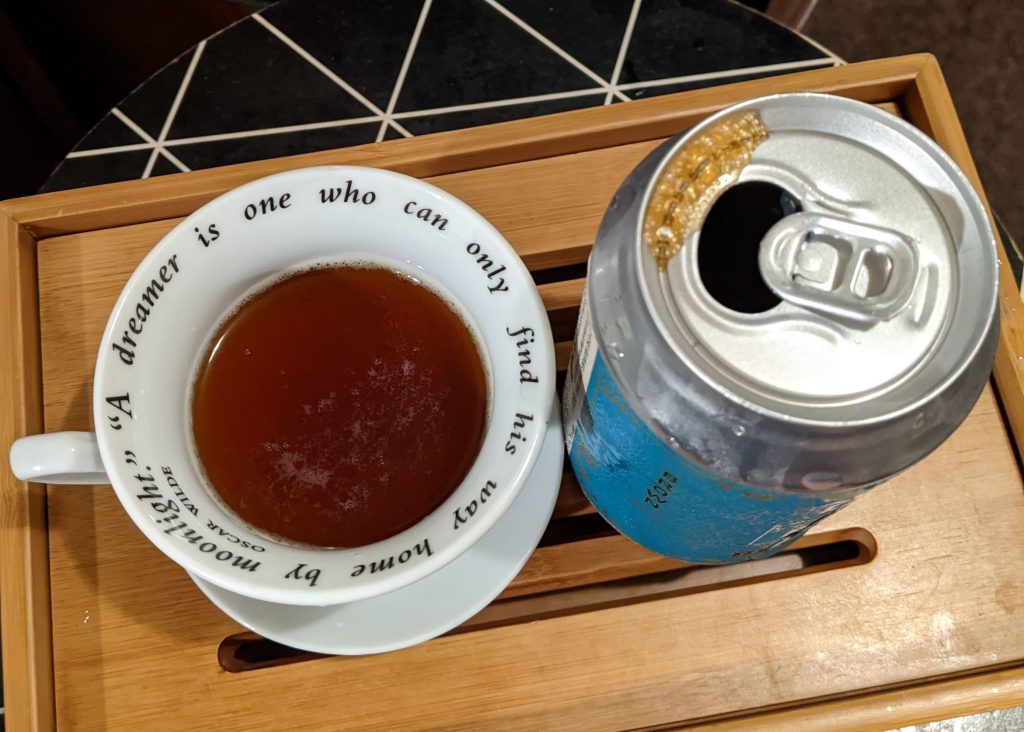 I'm not going to lie: if you like tea but don't like beer, you're not going to magically fall in love with this one. But if you're partial to both beverages and feel more like a drop of booze than a cuppa, this is a nice way to raise a glass.
Would you drink it again? Yes. But it's hella difficult to get and to be honest I won't make a stupendous effort to secure another order any time soon. But if I happen to see it at a bottle-o, I'll grab a few.