Once you step into the world of tea and find out about its amazing history, its terroir and the range of flavours that come from the one plant (that's Camellia sinensis, folks), all from its growing, processing and packaging conditions, it's easy to get snobbish about blended and flavoured tea. After all, why add anything to a product that has so many wonderful variations without additives?
But in deference to my agnosticism, which cares more about whether you like something over whether it's 'good', I present to you a list of my favourite blended and flavoured teas.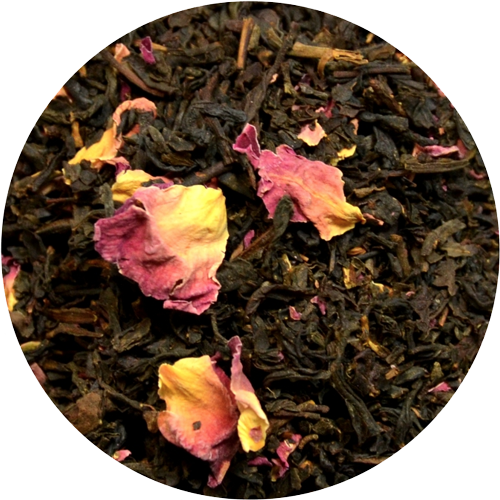 Adore Tea's Turkish Delight: A black tea with chocolate flavour and rose petals. I've tried a lot of Turkish Delight teas and this one has the best balance of tea, chocolate and rose. Other brands tend to use vanilla to ramp up the sweetness but Adore gets the chocolate taste just right.
Basilur's Snow Sledge: Ceylon Black leaf tea,  piece of papaya and sunflower, and strawberry, nectarine, orange and peach flavours. Despite the ingredients it's not overly fruity but has a pleasant stone fruit note that complements the black tea. Most of the Basilur range is scrumptious if you like blended/flavoured tea and the packaging—especially the tea tins—are exceptional and gift worthy.
Betjeman & Barton's Violette: A black tea flavoured with violet. Violet is not a common floral flavour outside Europe, or indeed France, so I was lucky to find this at a Betjeman & Barton store in Nice while travelling. Its sweet perfume is a nice counterpoint to the heaviness of the black tea. (Fortunately I didn't have to go so far for a top-up: I later found a branch in Singapore.)
Dilmah's Rose with French Vanilla: Part of its Exceptional range, Dilmah's black tea is tempered by rose and a subtle note of French vanilla. I'm not sure what makes the vanilla 'French' but I can tell you that it lets the floral part do the talking and this tea is all the better for it.
Harney & Sons' Hot Cinnamon Spice: Black tea with cinnamon, orange and sweet cloves make this both piquant and sweet. The smooth mouthfeel is also a great way to trick yourself into thinking you're eating dessert rather than drinking tea.
Love Tea's French Breakfast: An incredibly pretty blend of black tea, cinnamon, vanilla, rose petals, and corn flower. I was looking for an alternative to French Earl Grey (I didn't want the citrus notes from the bergamot) and found this lovely local brand. The blend is smooth and light and not too sweet. Perfect all day, not just at breakfast.
Madame Flavour's Jasmine & Pear: A delicate green tea with a fruity floral bouquet of—no surprises here—jasmine and pear. Would you believe I first tried this tea as part of a random National Young Writers' Festival goodie bag? It was the year I came third in the Spelling Bee. I consoled myself with a hot cup of sweet Madame and have been doing so ever since.
McIver's Mexican Mango Chilli: A piquant blend of black tea, cactus blossoms, amaranth, mango bits, pomegranate blossoms and chilli pods. Yes it's spicy, but it also has a surprising sweetness that makes this an interesting tea to sip.
T2's Gorgeous Geisha: This green tea with strawberries is beautifully fruity with a top note that sings to those with a sweet tooth. One of T2's most popular flavours, for good reason.
Teadrop's Honeydew Green: Green tea with honeydew pieces and apricot flavour. Another fruity concoction to hit the sweet part of your palate (do you see a trend in my favourite flavoured/blended teas?). The leaves are of high quality and unfurl after infusion.
The Tea Centre's Autumn Spice: A warming mix of black tea, orange peel, apple flavour, rose flowers, cinnamon & cloves, a well-combined blend of fruit and spice. As its name suggests, this is a perfect tea for cooler days (…or over-air-conditioned offices).
Tlicious' [RIP] RB (Raspberry): A surprisingly juicy black tea with raspberry pieces. An artful balance of tartness, sweetness and tea and a perfect complement to scones slathered in cream and raspberry jam.
What's your secret (or not-so-secret) flavoured favourite?