Tea lovers often ask me where to go for tea in my home town, Sydney, so here is Teashirts' (by no means definitive) guide to Sydney venues that serve quality leaf. Please note this page cover venues for sitting down to enjoy tea, not tea retailers.
Tea venues
Please note this section covers venues that are primarily designed for sitting down to enjoy tea, not tea retailers.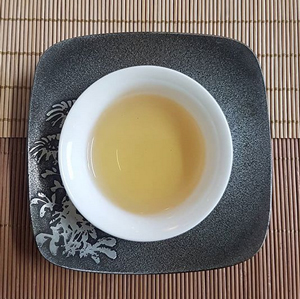 Four Sisters Tea
Shop 44, 47 Neridah Street, Chatswood
Proprietor: Hailan (Helen) Lin
This two-level venue is by turns a teahouse and retail space, a classroom and a private tearoom complete with everything you need to brew gongfu cha style. The Fujian sisters specialise in tea from their province, so expect quality yan cha (rock oolong) and original jin jun mei.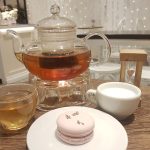 La Floraison
Lower Ground Regent Place, 501 George Street, Sydney
The loose-leaf tea comes in large glass teapots on a candle stand, perfect for whiling away an afternoon sipping tea. The concept of the teahouse is floral, as the name suggests, so the tea is blended with flowers and presented beautifully. Plenty of tisanes on the menu, too, if decaf is your preference, plus pair it with a range of dessert options.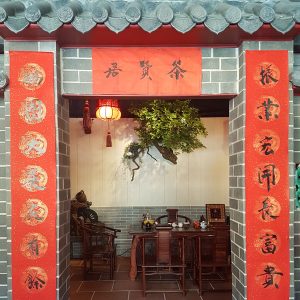 Long's Tea
Shop 1, 9 Dora Street, Hurstville
Proprietors: Eric Chen, Chloe Wu
The long-time Chinese tea wholesaler has opened a tearoom to showcase their tea to the public. Sit and brew at your own gongfu cha table and pay by the tea. The house specialty is bamboo stored pu'er. You won't regret splashing out for the decades-old sheng pu'er.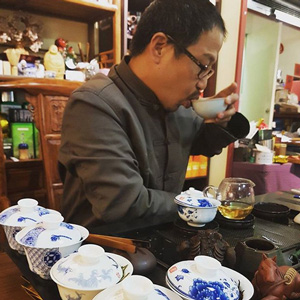 MY Tea House
Shop 4-5, 129-133 Military Road, Neutral Bay
Proprietor: Raymond Mao
Expect to be invited to the tea table whether you're there to buy or browse. Book ahead for special tea journeys, from beginners tastings to pu'er events. There's a big range of Chinese teaware on offer, with the specialty tea of choice being pu'er.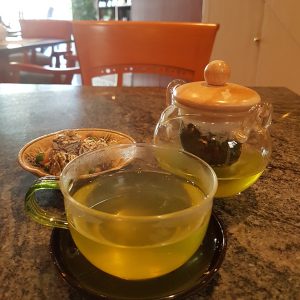 Taka Tea Garden
320 New South Head Road, Double Bay
Proprietors: Helen Kwok, Taka Pan
Japanese tea specialists Taka Pan and Helen Kwok also offer premium Chinese and Taiwanese teas. I've only been here a couple of times because it's not often open when I'm in the neighbourhood; ring ahead to confirm.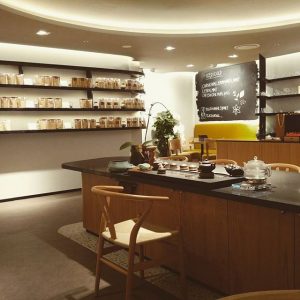 Tea Journal
Shop 44, 436 Victoria Road, Chatswood
382 Sussex Street, Sydney
Proprietor: Sunny Huang
Tea Journal boasts a well-curated menu of Chinese tea, some from the proprietor's family plantation, as well as some inspired Asian tea blends (lavender pu'er anyone?). While just steps away from Chatswood transport interchange, the venue is peaceful and well-suited to taking time for tea.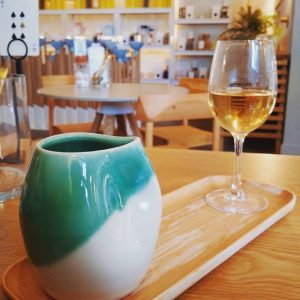 The Rabbit Hole Organic Tea Bar
146 Abercrombie Street, Redfern
Shop 1, 23 Barangaroo Avenue, Barangaroo
Proprietors: Corinne Smith, Amara Jarratt
Brought to you by two-thirds of the team that run the Sydney Tea Festival, and without a coffee machine in sight, The Rabbit Hole is a tea-lovers haven. The duo have been serving their delicious organic blends for years through cafes and now open their own doors to welcome tea connoisseurs with their full range in a funky fitout.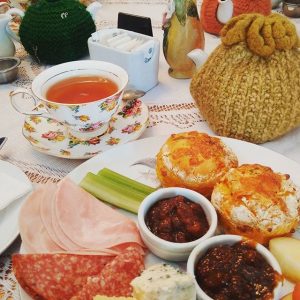 The Tea Cosy
33 George Street, The Rocks
Proprietor: Ash Kinchin
Set in a haunted (allegedly) heritage house, The Tea Cosy has plenty of character—whether that comes from the sandstone venue or the rainbow of tea cosies adorning the place is for you to decide. It has, hands down, the best scones in Sydney. Trust me, I've eaten a lot of scones in Sydney. Perfect for morning tea, afternoon tea, Devonshire tea, high tea…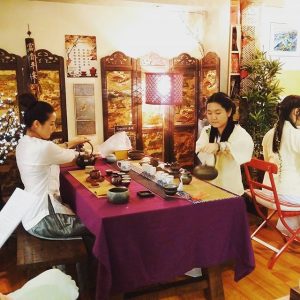 Topo Tea
D6 Sussex Centre, 401 Sussex Street, Sydney
Proprietor: Shane Shu
Take a seat for a formal tea tasting or relax with an all-you-can-drink-for-$15 session. Topo has a mix of their own plantation teas alongside popular Chinese and Taiwanese teas as well as a couple of rarer teas and an outstanding range of gong fu cha teaware.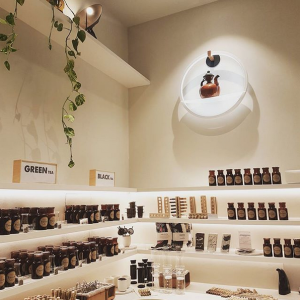 T Totaler
Ground floor The Galeries, 500 George St, Sydney
555a King Street, Newtown
Proprietors: Amber and Paul Sunderland
There are very few tea blenders that match the flair of T totaler. The duo are fun and experimental, using mainly organic ingredients, and will also teach you how they do it in their blending workshops. Its speciality is herbal tea but you'll also find camellia sinensis and some awesome cake here.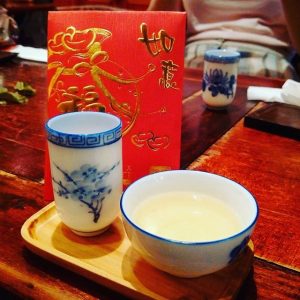 Zensation
816 Bourke Street, Waterloo
Proprietors: Raymond and Christina Leung
A well-appointed teahouse with a modern oriental theme, Zensation excels at hosting tea events, particularly at Chinese New Year. Pair your tea with food by choosing a degustation, or select your own brew from the curated menu. Leaf and teaware also available for sale.
Notable others
Venues where tea is not the main focus but they've put some effort into offering decent loose leaf tea.
Angel Garden by Uncle Tetsu
Lower Ground Regent Place, 501 George Street, Sydney
The cafe cousin of the famous Uncle Tetsu Japanese cheesecake shop, Angel Garden is a dessert cafe serving Uncle Tetsu's popular cakes and tarts alongside a strong Yame-matcha cappuccino and pots of various tea.
Bread & Circus
21 Fountain Street, Alexandria
Fresh, wholesome and—above all—delicious food is the main game here, but it also has a wonderful selection of fine Asian teas.
Bruce Tea & Coffee
12 Bridge Road, Glebe
Gotta love a small specialty cafe that looks after its tea customers. Choose from a curated selection of Tea Craft teas served gongfu with multiple infusions if appropriate.
Cafe Cre Asion
101/21 Alberta Street, Sydney

The main game is coffee and macarons but there's a decent list of Japanese teas and western style teas and blends by French institution Mariage Frères. Matcha lattes come in a bowl.
Cafe Oratnek
4 Pitt Street, Redfern
Choose from a pot of loose-leaf Mariage Freres tea, a matcha latte or hojicha thickshake to go with your matcha French toast—this is Japanese fusion for brunch at its best.
Fleetwood Macchiato
43 Erskineville Road, Erskineville
This little cafe deserves two thumbs up for tea service with a good, seasonal range of Tea Craft teas brought prepared to the table. Oolong and pu'er re-steeps offered without asking.
Juan Bowl & Tea
94a Pitt Street, Redfern
As you tuck into your beautifully presented don (rice bowl) you can sip a matched tea by Redfern teahouse stalwarts Zensation.
Oh! Matcha by Chanoma
Shop 11 Regent Place, 501 George Street, Sydney
Okay, hear me out. What if we had a place where you could get Japanese-style hotdogs and matcha drinks and desserts? Here 'tis!
ONE Tea Lounge & Grill
73 York Street, Sydney (also takeaway at Westfield Chatswood)
Proprietor: David Yip
Highly recommend the delicious tea cocktails, though you can also get a hot pot of Japanese tea here too. Most of the menu includes tea as an ingredient and I suggest you leave room for dessert.
The Palace Tea Room
Level 1 Queen Victoria Building, George Street, Sydney
An enchanting room that serves beautifully presented food with a serious offering of tea by Harney & Sons in fine china pots. Lunch and high tea both recommended (but not at the same time).
The Tea Salon
Level 4 Westfield, Pitt Street, Sydney
An oasis of calm in bustling Westfield, The Tea Salon offers a wide range of blended and flavoured teas accompanied by beautifully decorated cakes and other sweets. Oh there are savoury items too, but let's face it, you're here for a high tea treat.
White Rabbit Gallery
30 Balfour Street, Chippendale
A permanent home for contemporary Chinese art, the White Rabbit Gallery also houses a small eatery on its ground floor that serves a range of Chinese tea alongside dumplings and scones.
Tea retailers
Where to buy leaf tea in Sydney in addition to the teahouses named above.
Green Valley Spices: all over Sydney (< click link for store finder)
Quali-tea: Strand Arcade, 412-414 George St, Sydney
T2: all over Sydney (< click link for store finder)
Tenren's Tea: 389 Victoria Road, Chatswood
The Tea Centre: Piccadilly Centre, 210 Pitt St, Sydney; Westfield Hornsby, 236 Pacific Highway, Hornsby
Coming soon: At Tea (Duo, Central Park), Matcha-Ya
Have I missed naming your favourite venue? Maybe I haven't been yet! Nominate it here.
All photos by Adeline Teoh.