Drinking tea in Melbourne, Australia's coffee capital, is actually not as difficult as you'd expect and in many ways it is less tethered to Asian style teahouses and more inventive with its venues than Sydney. Here is Teashirts' (by no means definitive) guide to Melbourne venues that serve quality leaf.
Tea venues
Please note this section covers venues that are primarily designed for sitting down to enjoy tea, not tea retailers.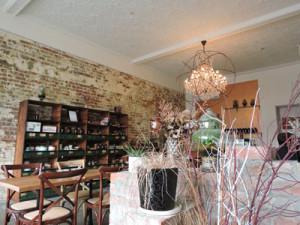 The Brunswick Tea Room
558 Sydney Rd, Brunswick
Proprietor: Sarah de Witt
A tastefully decorated tearoom with a tea menu to match. Classic Chinese teas are done well but the most outstanding teas are the blends. Try Monk's Garden, a floral pu'er blend, or Turkish Delight, so sweet and fragrant it's hard to believe it doesn't have any sugar. The food is also lovingly prepared and presented.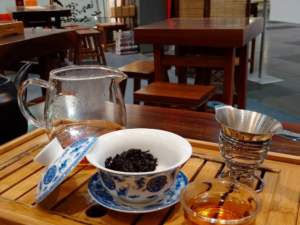 Cha-T
Shop 53, 1 Main Street, Box Hill
Proprietor: Spencer Wong
The city store is a spacious and pleasantly decorated venue presented Chinese style but without clutter. The store offers customers a gongfu cha set to brew their chosen tea, which you can choose from an expensive, though well curated, menu of Chinese and Taiwanese leaf.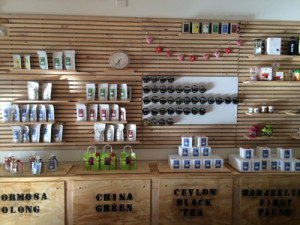 Cuppa Cha
768 Burke Rd, Camberwell
Proprietor: Tania Stacey
Cuppa Cha is a cafe concept with hearty food (including deliciously fluffy scones) and a comprehensive tea menu. Yes, you can get coffee and your classic tea blends, but where Cuppa Cha excels is in its breathtaking range of high quality Taiwanese oolongs. If you love oolong, head here. The food list also comes with tea pairing suggestions, so you can certainly make your meal an unofficial degustation.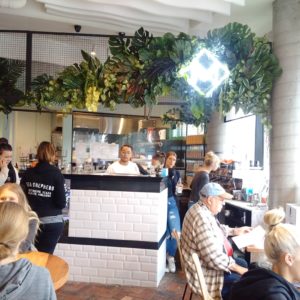 Matcha Mylkbar
72a Acland Street, St Kilda
Proprietors: Nic Davidson, Sarah Holloway, Mark Filippelli and Attil Filippelli
A collective love of Japanese stone ground shade grown green tea powder has manifested into this St Kilda eatery serving all manner of matcha-laced drinks and matcha-infused food. Sadly I was unable to sit for a meal but I walked away with a smoothie charmingly named 'If you know any vegetable puns, lettuce know' and a matcha latte, both potent and delicious.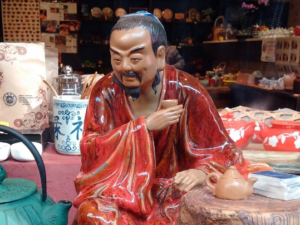 Milan Tea House
33D Buckingham Ave, Springvale
Proprietor: Wendy Wong
Situated in an area with a significant Vietnamese population, Milan Tea House offers a respite from the bustling town centre. It is elegantly appointed, though crowded with teaware, and offers a range of unusual teas, including 60-year-old pu'er and Tibetan brews.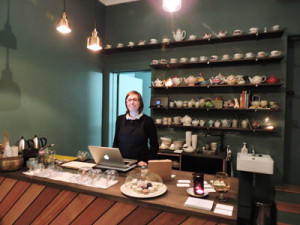 Porcelain Tea Parlour
149 Elgin St, Carlton
Proprietor: Scarlett Killaly
Walking in feels like a warm hug. Designed for people to come in and relax, the space is your lounge room away from home. The curated tea list is short and changes seasonally but there are enough combinations of tea-and-morsel (cheese, chocolate, macarons) on the menu that you'll certainly find something to sip and nibble.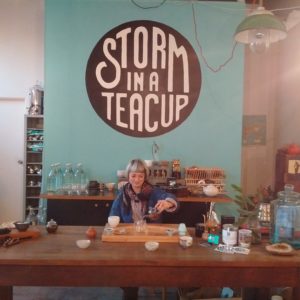 Storm in a Teacup
Rear 55 High St (enter via Westgarth Street), Northcote
Proprietor: Hannah Dupree
After a few years at its original digs in Collingwood, Storm in a Teacup has decamped to a studio-like space in Northcote and is open only on Wednesdays for (free) tastings and direct retail. Hannah has lost none of her passion for tea and will happily brew any tea of your choice so you can try before you buy, or simply enjoy it.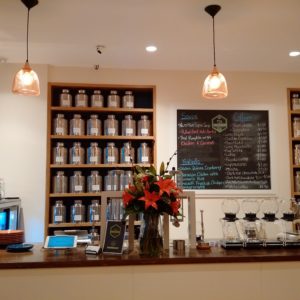 Tea Connoisseur
1218 High Street, Armadale
A nicely furnished cafe concept with basic food and coffee but a rich and varied menu of teas from around the world. If you're ordering anything you think may warrant a second brew, let your tea maker know to keep the leaves for another infusion. Some good quality teaware for sale also.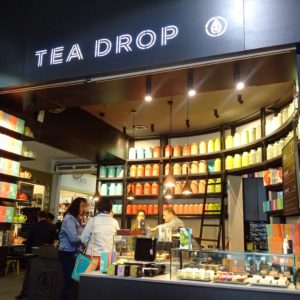 Tea Drop Brew Bar
Stall 34, South Melbourne Market
Proprietor: Ashok Dias
This smart fitout carves out a nice corner of the market offering much more than the standard blends for which the brand is renowned. Take your time over a pot of $7 single origin tea, from recently harvested greens to aged pu'ers. The only drawback is it's opposite a fishmonger, so protect your brew's aroma.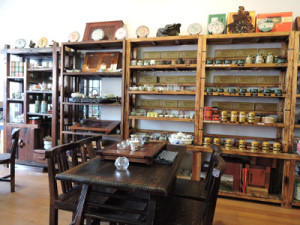 Teahub
171 Toorak Road, South Yarra
Proprietor: Terry Wu
A step away from busy Toorak Road and you're in another world, one where there's a DIY gongfu cha set to brew your chosen tea to your taste (don't worry if you don't know how, the friendly staff will teach you).  Teahub also offers a small selection of vegetarian dishes.
Notable others
Venues where tea is not the main focus but they've put some effort into offering decent loose leaf tea.
Oriental Teahouse
378 Little Collins St, Melbourne
455 Chapel Street, South Yarra
Chadstone Shopping Centre
Come for the dumplings but make sure you have some tea to accompany them.
Vue de Monde
Level 55 Rialto, 525 Collins Street, Melbourne
The food is the focus here, plenty of artisan morsels with fresh local produce, but instead of an accompanying wine flight you can request a tea flight with the same professionalism applied to matching tea with the food. (Warning: This is a budget-breaker, so come armed with plenty of cash or an excellent credit rating.)
Have I missed naming your favourite venue? Maybe I haven't been yet! Nominate it here.
All photos by Adeline Teoh except Cuppa Cha by Tania Stacey, Cuppa Cha.